null - Distressed Commercial Real Estate | Avison Young Canada - Canada
Distressed properties commercial real estate services
Avison Young's distressed property team has the extensive technical knowledge and expertise to manage, value, lease, market and sell your distressed properties to minimize risk, and maximize proceeds.
From receivership to management, leasing and disposition, corporate and asset strategy to implementation we cover a full-range of services. Our expert appraisers and knowledgeable brokers provide detailed appraisal studies and concise Broker Opinions of Value reports and Broker Pricing Opinions.
Connect with my local distressed properties advisor
Our key service lines to aid in distressed asset situations:
Valuation and Advisory Services
Business Consulting & Advisory Services
Real Estate Management Services
Project Management Services
Real Estate Consulting & Advisory Services
Leasing Strategy & Agency Services
Property Tax Appeal
Capital Markets, Debt Services, & Investment Sales
Experts in all asset classes, specializing in:
Asset and portfolio strategy
Accredited appraisal & valuation services
Receivership and judicial/court-ordered sale listing services
Listing proposals and broker opinions of value
Licensed property management services to assist receivers
Advisory services for insolvency, workouts and restructuring (businesses, assets/real estate and debt)
Expert witness testimony and litigation support in court or arbitration
Corporate real estate strategy including workplace, industrial and retail footprint optimization
Structured to support your distressed property, no matter the scope.
Our services are aligned to offer full or partial support of your unique distressed property experience.
01 Understand your asset
Analyze and value distressed property situations and provide solutions to align with your business and real estate needs.
02 Take control and stabilize
Complete property administration, project management and maintenance takeover.
03 Create value
Discover and resolve unknown issues and disputes to better position your asset in the market.
04 Disposition / exit
Strategic disposition and exit strategies to effectively market and sell your assets for maximum value.
Distressed property services news and updates
Avison Young unveils annual Impact Report on global ESG vision and strategy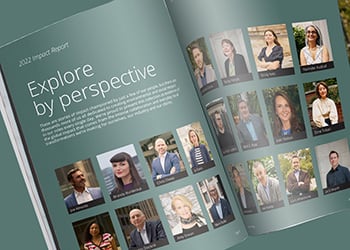 August 3, 2023
Bricks and mortar meet human touch, as Avison Young teams up with non-profit Women Photograph to capture portraits of progress.
Toronto, ON, Chicago, IL, London, UK - Global commercial real estate advisor, Avison Young, today released its Impact Report, detailing progress made in climate action, diversity, equity and inclusion, and community impact – as a part of its overall ESG vision and strategy.
The report outlines, among its themes, its progress toward net-zero, striving toward a diverse and inclusive workforce, and steps taken toward creating social value and community impact. Key projects highlighted include:
The firm's new global headquarters – designed for connectivity, sustainability, and impact. Still in Toronto, the new office is newly located in the world-class TD Centre in the heart of Canada's financial district;
The reimagination of the firm's Manchester workplace, with a focus on inclusion and serenity. Inspired by quiet zones, dimmed lighting, curved edges and biophilic design, the office provides a people-centric experience for all who enter; and
Avison Young's initiative to stay on top of emerging government legislation by integrating knowledge into client counsel and support, as evidenced by New York's Local Law 97 – considered the world's most ambitious building emissions legislation.
"Layering onto our environmental initiatives, we have also taken great strides toward addressing social challenges. Social value is changing the way we look at urban regeneration projects – and our teams around the world are proactively rising to the occasion," said Mark Rose, Chair and CEO of Avison Young. "We recognize that no single organization can tackle these complex challenges alone. Collaboration is key to driving sustainable solutions and achieving lasting impacts. In that spirit, we have actively engaged with stakeholders, including government bodies, city leaders, non-profits, and our real estate industry peers."
The Impact Report and web experience features creative, bold, photography commissioned by Women Photograph, a non-profit that elevates the voices of women and nonbinary visual journalists, ensuring storytellers are as diverse as the communities they represent. Avison Young partnered with Women Photograph because of a shared commitment to shine a light on gender equality in our industries and to support gender-balanced workforces.
About Avison Young
Avison Young creates real economic, social and environmental value as a global real estate advisor, powered by people. As a private company, our clients collaborate with an empowered partner who is invested in their success. Our integrated talent realizes the full potential of real estate by using global intelligence platforms that provide clients with insights and advantage. Together, we can create healthy, productive workplaces for employees, cities that are centers for prosperity for their citizens, and built spaces and places that create a net benefit to the economy, the environment and the community.
Avison Young is a 2023 winner of the Canada's Best Managed Companies Platinum Club designation, having retained its Best Managed designation for 12 consecutive years.
For more information:
Canada: Andrea Zviedris, Director, Media Relations – North America: +1 416.891.7416
United States: Sandra Hill, Manager, Media Relations – U.S.: +1 281.853.5548
United Kingdom: [email protected]
Key distressed property services contacts