COVID-19 impacts on Greater Toronto Area commercial real estate market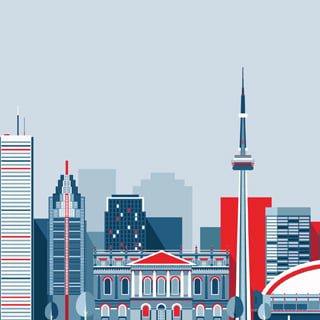 2 Jun 2020
Period covered: May 16th to 29th, 2020
COVID-19 impacts on Greater Toronto Area commercial real estate market
As this unprecedented situation continues to rapidly evolve, Avison Young's briefing notes are intended to provide an up-to-date assessment of the impact on the commercial real estate market.
General trends, news and market observations
Schools in Ontario are to remain closed until September
The Province of Ontario has extended all emergency orders currently in place until June 9th. Current emergency orders include the closure of outdoor playgrounds, play structures and equipment, public swimming pools and outdoor water facilities, as well as bars and restaurants except for takeout and delivery. Additionally, there continues to be restrictions on social gatherings of more than five people, and staff redeployment rules remain in place for long-term care homes and congregate settings like retirement homes and women's shelters
The Province of Ontario is permitting Ontario corporations to conduct virtual meetings and to defer certain annual meetings in specified circumstances and is allowing the Ministry of Government and Consumer Services to accept copies of documents, electronic signatures on documents, and electronic filing of documents. These changes are part of COVID-19 Response and Reforms to Modernize Ontario Act, 2020
BDC reports that the default rate has not gone up much in the past two months in the mid-market (companies with annual sales over $2 million). The bank has been reactive during the crisis, trying to support businesses through six-month loans to get through this period
Within the Greater Toronto Area, York Region has identified a list of dozens of local companies that are switching over to producing PPE, medical gear and supplies. Manufacturers are repurposing production lines, while tech and biotech companies are providing innovative solutions and research to assist front-line responders and the government's response to the COVID-19 crisis
The City of Markham is eyeing easing restrictions around patios, outdoor dining and shopping. "As the economy slowly restarts, we need to focus on making public and outdoor spaces safe, ensuring everyone is comfortable by encouraging businesses to consider using patios and sidewalk shopping, especially as the weather warms up," Mayor Scarpitti said. "Understanding that recovery will not be business as usual, we want to give restaurant and bar owners the flexibility to expand their patios into extra spaces like parking lots, since physical distancing and hygiene guidelines will mean removing tables and serving fewer people than before."
Office market observations
Shopify has announced it is keeping its offices closed until 2021 and moving to a "digital by default" strategy
Downtown Toronto office tenants should get ready for big changes in office buildings, says landlord Cadillac Fairview. Measures at downtown assets will include elevator queues, staggered start times for workers and mandatory masks to be worn in common areas, as well as extensive signage and social distancing markings. An app to allow workers to book an elevator time is also being considered
Some transactions that had been suspended due to the crisis have begun to move forward again – along with some that have started since the lockdown began. There are more inquiries on listings and even some offers. Tenants are cautious but still want to go forward; there is more positivity and momentum in the market than there was a week or two ago
There has been an uptick in tour activity, especially video, 3D and other virtual tours
Air quality standards are expected to become a normal part of lease negotiations, using ASHRAE and MERV standards. There is some scope for negotiating MERV levels but there are limits to what can be achieved without upgrading HVAC systems. Higher-level filtration is also much more expensive than current normal levels
Shopify's announcement has caused some companies to wonder whether they should follow the same strategy. However, every tenant is different and needs to find the strategy that suits their business best, considering all facts and potential impacts
Many tenants are saying that, while initial reaction to WFH was very enthusiastic, longer-term reaction from most employees is that they do not want 100% WFH in future. People want to return to the office, at least some of the time, though the right balance is an individual decision
Downtown Toronto office space tours will likely be limited to the broker and no more than two people from the client company, to accommodate the maximum of four people per elevator (including the landlord representative)
Demand for suburban office space remains low so far. There is a sense that tenants are willing to wait before committing to leases, and some are expecting discounted rental rates as a result of COVID-19
In the suburbs, lockouts are not yet being imposed by landlords; however, some class B and C buildings are experiencing tenant walkout and looming subleases
Changes to medical office buildings are expected to be even more extensive than those in commercial office buildings
Industrial market observations
Celestica's Newmarket operation has won a contract with StarFish Medical Inc. to manufacture 7,500 ventilators for the Canadian market
Traction on deals in the 1,000 sf to 10,000 sf range has grown while activity in the 20,000 sf to 50,000 sf range remains slower. However, there is interest on 50,000-sf-plus spaces
The most active companies are those making PPE and hand sanitizer, and cannabis groups
Active users are looking for short-term deals – the primary concern moving forward is deal structure
Investment activity continues on small-bay assets in particular, in some cases for condo conversion
Investors are no longer willing to pay more than users for industrial buildings over 100,000 sf. This translates to a slowdown of $200-psf-plus transactions that were becoming the norm in the market
Retail market observations
There is starting to be more optimism in the market about moving forward with transactions
Percentage rents could be a temporary measure once restaurants, stores and gyms start to re-open and operate at partial capacity
Retailers continue to struggle, with the exception of many grocery and pharmacy tenants
There has been an increased demand for from daycare groups looking to lease space in the Toronto North market
Multi-Residential market observations
Deal activity has continued and is going well. There is plenty of optimism and lots of buyers waiting to get going on transactions
Investment market observations
Asset valuations could fall, but stakeholders are being very cagey. Few lease deals have been done, so there are no numbers or evidence to work from. Most investors say they aren't buying or selling right now - everything is frozen
Industrial is currently one of the most desirable sectors for investors, along with multi-residential
Two-thirds of institutional lenders have been "on pause" and mainly dealing with existing clients. Private lenders are working on a deal-by-deal basis, assessing whether or not a borrower can survive the next 18 months
Financing activity has picked up since construction restrictions were lifted by the province, and lenders are getting ready to get back to business. Projects getting ready to seek financing for construction include office, multi-residential and retail
Please visit the Avison Young COVID-19 Resource Centre:
https://avison-young.foleon.com/COVID-19-updates/resource-centre/research-update/
The spread of COVID-19 and the containment policies being introduced are changing rapidly. While information in the briefing notes is current as of the date written, the views expressed herein are subject to change and may not reflect the latest opinion of Avison Young. Like all of you, Avison Young relies on government and related sources for information on the COVID-19 outbreak. We have provided links to some of these sources, which provide regularly updated information on the COVID-19 outbreak. The content provided herein is not intended as investment, tax, financial or legal advice and should not be relied on as such.
For more information, please contact:
Bill Argeropoulos
Principal & Practice Leader, Research, Canada
[email protected]
1.416.673.4029