COVID-19 impacts on Greater Vancouver Area commercial real estate market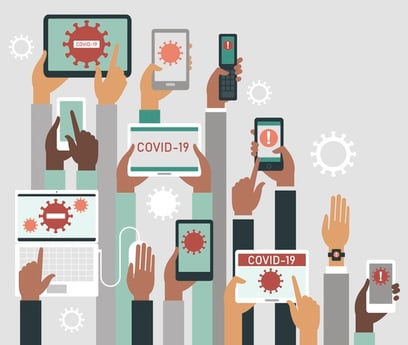 13 May 2020
COVID-19 impacts on Greater Vancouver Area commercial real estate market
As this unprecedented situation continues to rapidly evolve, Avison Young's briefing notes are intended to provide an up-to-date assessment of the impact on the commercial real estate market.
Period covered: May 1st to May 8th 2020
General trends, news and market observations
B.C. government announced the timeline on May 6th to reopen aspects of the provincial economy that have been closed as a result of the coronavirus pandemic. The four-phase approach will see the following reopened under enhanced protocols. These dates remain in place for as long as the coronavirus transmission rate remains low or in decline. B.C. is currently in phase 1

Phase 2 (Starting May 19th): Re-scheduling elective surgery; medically related services: dentistry, physiotherapy, registered massage therapy, chiropractors, physical therapy, speech therapy, and similar services; retail sector; hair salons/ barbers/other personal service establishments; in-person counselling; restaurants, cafes, pubs – with sufficient distancing measures; museums, art galleries, libraries; office-based worksites; recreation/sports; parks, beaches and outdoor spaces and child care

Phase 3 (June-September): Hotels and resorts (June); parks – broader reopening, including some overnight camping (June); film industry – beginning with domestic productions (June/July); select entertainment – movies and symphony, but not large concerts (July); post-secondary education – with mix of online and in-class (September) and K-12 education – partial return in June, full return in September 2020

Phase 4 (TBD - Conditional on at least one of: wide vaccination, "community" immunity, or broad successful treatments): Activities requiring large gatherings, such as: conventions, live audience professional sports, concerts; and international tourism

Vancouver mayor, council encouraged by B.C. Premier John Horgan's restart plan for economy

The City of Surrey is moving forward with plan to accelerate the recovery of businesses, residents, and municipal operations, including a 90-day extension on late payment penalties for residential and commercial property tax payments, with late payment charges to come into effect on October 1st instead of July 3rd. On the construction industry side, new and in-stream projects with a construction value of more than $25 million will benefit from a 50% reduction of many development-related fees

B.C. continued its historic job market slide in April due to COVID-19 as the unemployment rate climbed to 11.5% in April from 7.3% the previous month, Statistics Canada announced

Confusion and lack of details regarding the Canada Emergency Commercial Rent Assistance (CECRA) program – announced April 24th by Canadian Prime Minister Justin Trudeau – has limited adoption of the program in B.C. Many landlords have declined to participate citing numerous questions/issues regarding the program with some clarifications issued by the Canadian government last week. The program initially indicated the federal government will cover 50% of the rent with qualified landlords and tenants each picking up 25% of the remaining rent. (See more details related to the CECRA program in the Property Management section of this summary.)

Federal government unlikely to provide additional rent support; banks asked to step up

City of Vancouver staff propose changes to the city's short- and long-term housing strategy to reflect the shortfalls in its current plan made apparent by COVID-19; this includes fast-tracking the review and approval processes for a range of identified affordable and market rental residential development applications

Metro Vancouver home sales in April 2020 fall to 38-year low: REBGV

B.C. home sales and new construction forecast to fall by 30% in 2020: report

House prices will fall 10% before recovery: Moody's

TransLink to resume fare collection and front-door boarding on buses in June 2020

BC Ferries to increase passenger capacity on major routes

COVID-19 will cause B.C.'s GDP to contract by 7.3% in 2020, according to Central 1 Credit Union. This exceeds the previous record contraction of 6.4% during the 1982 recession. In March 2020, B.C. lost 132,400 jobs, which increased the unemployment rate to 7.2%; unemployment through 2020 is expected to average 8%; sectors that are hardest hit include hospitality, food services, information and culture, recreation, and tourism and retail, with younger workers and females particularly impacted

Carnival Cruise Line will resume a select number of its North American cruises starting August 1st with eight ships from Miami, Port Canaveral, and Galveston; the suspension of other North American and Australian markets will be extended through August 31st, which will likely mean there is little to no likelihood of a cruise season in Vancouver in 2020



Office market observations
Landlords seeking stronger covenants in exchange for longer term

Sublease office opportunities continue to come to market; most remain small but some larger spaces beginning to surface

The City of Vancouver postponed its Broadway Plan to Q3 2021

Major institutionally owned speculative office developments in Canada that have not started construction will likely be shelved due to substantial declines in cash flow related to the institutional owners' battered retail portfolios and questions around future office demand



Industrial market observations
Industrial remains the least impacted asset class; however, most owners/tenants are focused on maintaining operations and not thinking about real estate

Industrial lease rates remain largely unchanged from pre-COVID-19 rates, but investment yields will likely rise

Restructuring supply chains remains a key discussion in industrial

Demand for small industrial spaces appears to be recovering with small-bay requirements emerging; small-bay industrial in Richmond appears to be climbing along with lease rates but may be related to office users trying to secure industrial space in order to build out office portion

Number of tours continue to increase as do sale offers with multiple bid situations emerging

Buyers are expecting vendor pricing expectations to come off, but they aren't and are unlikely to due to the resiliency of the asset class demonstrated to date

Toronto-based companies appear to be getting back to business but appear two to three weeks behind B.C.

May rent was not a substantial issue for industrial landlords in Metro Vancouver



Retail market observations
Retail lease rates forecast to fall when Vancouver stores reopen

T&T Supermarket requires all customers to wear non-medical face masks while shopping in-store

Vancouver's Value On Liquor Store installs thermal camera

B.C. restaurants aiming for June 1st for reopening under social distancing guidelines

Vancouver restaurants worried about ability to re-open as COVID-19 restrictions ease

Vij's Rangoli vacated its South Granville location and moved operations to Vij's Restaurant on Cambie Street

Very challenging to underwrite retail assets in this environment, but small deals (less than $10 million) are possible but may require price reductions and other purchaser incentives

Major landlords are starting to recognize that rent deferment discussions and agreements are only the first step in a longer endeavor to try to normalize leasing in their assets

There is a realization by tenants and landlords that it is unlikely that there will be a return to normalized sales levels in the foreseeable future

Restaurant and food retailers have been seeing double-digit growth in sales during the past couple of weeks as people start to feel comfortable and go out, order take out and visit stores; some tenants are getting to 30% to 60% of sales before COVID-19, but it is anticipated this growth will level off quickly and getting to 100% is going to take a lot longer

There will likely be a downward trend in retail rental rates, not just on new deals, but probably on existing deals with tenants looking to landlords to open up existing leases and renegotiate in order to stem massive amounts of vacancy

Landlords will have to come to the table with the retailers they believe in and who they want in their portfolios and work with them at least on a short term – one or two years - or at renewal or landlords are going to see a lot more vacancy at a time when space will be difficult to fill

Valuations for shopping centres and retail in general will likely decline as rental income dips, vacancy rises and the ability to fill vacancy is more challenging than ever

Changes in consumer habits are going to affect tenants' ability to go back to paying full rent, let alone paying full rent plus an amortized portion of the deferment received

May rent figures have yet to come through but they we are probably at or below April

Requirements from government and some driven by retailers themselves will include measures to ensure retailers do everything they can to create safe work environments for employees and safe places for people to shop

Retailers are shifting from talking about rent deferment to what they have to do to operate in this new normal, which could include regulated hand washing, temperature and health checks at the beginning and end of shifts; employees wearing masks and/or gloves, or a restrictions on the number of employees in certain areas

Retailers are wanting to be proactive and go beyond requirements to show they are a safe place to work because it is as much about employees feeling comfortable coming to work as it is about getting customers to shop or eat at the restaurant



Property Management observations
There is no government program yet that can be relied upon for commercial rent deferral and that participation in the CECRA is contingent on the landlords agreeing to do so, which most landlords have not agreed to do

Some rent relief requests granted for tenants with longstanding relationships and who provided complete transparency with their financials; a number of lease renewals were also completed; business is getting done and people are optimistic to get back to work; it is really trying to motivate tenants to think objectively and to be honest with landlords because then there is a willingness for landlords to work with them

Property management is increasingly turning from rental discussions to figuring out how to reopen buildings, which typically involves at least seven considerations: communications, physical distancing, janitorial, building operations, security, mechanical systems and signage; each consideration has its own set of complex issues; also all service contracts need to be redone to include a COVID clause

Clients are looking towards having "touchless" buildings, including door openers and touchless faucets and soap and paper dispensers; a real emphasis on touchless and motion-activated functions is going to be the new normal and costs are going to rise; property management needs to future-proof buildings against when something like this happens again



Multi-Residential market observations
Demand for apartments has not been impacted by COVID-19; the real impact is the inability to get people through buildings/units in order to generate offers from prospective purchasers and/or to complete/waive outstanding conditions required as part of due diligence; still pitching on multi-residential assets and continuing to entertain offers on listings

Too early to know scope of residential rent paid/unpaid in May, but government support programs such as the CERB and UI along with other government programs appear to have gotten funds into people's hands to help them make rent payments for the time being



Investment market observations
Capital markets activity is muted due to some potential vendors who aren't prepared to entertain offers yet and Canadian institutions that will likely decline to complete any significant deals in 2020

Most major deals are on the sidelines along with most buyers; those owners who are considering selling tend to be private

Deals in the $10-million range are still there to be done, but deals in the $50-million to $100-million range are way more difficult because people are looking for data that isn't there yet

Popularity of owning strata office and/or industrial space will increase as ownership is perceived as a way to future-proof against economic shocks such as a pandemic

COVID-19 clauses are being inserted into sale contracts, which are generally being extended, not dropped, because no one can tour, which is slowing due diligence and requiring an extension

Refinancing debt is emerging as an issue with some lenders concluding that valuations are too high
Avison Young COVID-19 Resource Centre:
https://avison-young.foleon.com/COVID-19-updates/resource-centre/research-update/
The spread of COVID-19 and the containment policies being introduced are changing rapidly. While information in the briefing notes is current as of the date written, the views expressed herein are subject to change and may not reflect the latest opinion of Avison Young. Like all of you, Avison Young relies on government and related sources for information on the COVID-19 outbreak. We have provided links to some of these sources, which provide regularly updated information on the COVID-19 outbreak. The content provided herein is not intended as investment, tax, financial or legal advice and should not be relied on as such.