Sightlines - Canada
How data & technology will inform commercial real estate's adaptation to the "new normal"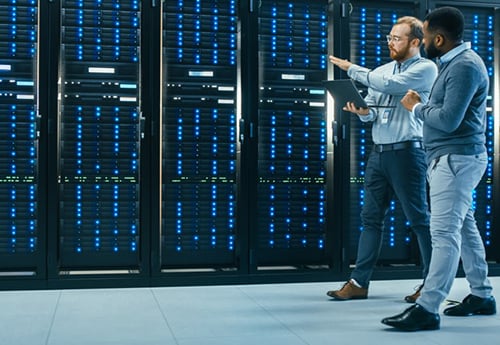 mai 21, 2020
Corporate real estate has historically been awash in a broad spectrum of data, from transactional information to building performance data. The more data points we can collect and analyze continues to increase with time. 90% of all data has been created in the last two years. However, data across different functions of our industry has rarely been synchronized and is often viewed as proprietary. As a result, data tends to be myopic in scope and, in the end, actionable analysis has been limited in scale. While the COVID-19 pandemic may not change the upward trajectory of data and analysis in real estate, it may accelerate its use in specific areas. In recent years, real estate analytics has become more accessible, sophisticated and engrained in business processes and decision making. Even more data points are being collected for use in future planning, operations and facility design. Building Information Modeling (BIM) has been around for decades and has only become more powerful with our ability to better visualize and analyze data. New tools for data analysis are constantly being developed and have allowed for layers of information to increasingly be observed in unison. In fact, size of big data analytics market will reach $103 billion by 2023. In real estate, for instance, over the last few decades, sustainability and green building helped usher in the monitoring and study of building performance in terms of energy consumption, not just financial performance. And before the outbreak of the COVID-19 pandemic, the rise of the proptech industry was only in its infancy, laying the groundwork for the next generation of commercial real estate data and analytics. The potential for smart buildings seems unprecedented.
The shifting course of data and technology application
Modern employees want more flexibility and optionality from their employers. Through technology, almost every job function in many office settings can be done remotely, at least in part. Pre-COVID-19, agile work models were beginning to gain in popularity, as shown in the Upwork Future Workforce Report. Talent can be difficult to attract if you are geographically constrained. Companies have increasingly used freelancers, gig workers and contractors to satisfy certain project goals. Out of this current crisis, we expect more full-time employees to seek the remote options available in today's market. While not every function can be done remotely, most companies have been impressed with the level of productivity they have seen from their employees during this difficult period. In just the past few weeks, many large corporations like Morgan Stanley, Twitter, and Nationwide have made bold statements about their own real estate strategies coming out of this pandemic. In the first quarter of 2020 (pre-COVID), Deloitte released a survey that found most professionals take advantage of flexible work options despite perceived consequences to professional growth. The study found that work flexibility was critical to employees' professional and personal wellbeing. While COVID-19 has brought record-high unemployment through no fault of some talented individuals, we can expect that when the economy cycles back upward the war for talent will be stronger than ever, with higher expectations than before. We foresee that companies that provide workplace optionality will be positioned for greater success in the future. New employee demands, including work/life integration and a de-prioritization of geographic proximity, are driving future employment decisions. Each company and its employees have their own unique needs, but everyone should be asking: what percentage of employees need to be in a fixed location?
How the pandemic may drive increasing need for predictive data
Companies are already executing on their 'return to work' strategies but planning for contingencies in future outbreaks is daunting as "one size" won't fit all. As a result of the pandemic, data analytics and building technology may need to become even more predictive in the future. And companies that employ or utilize big data effectively could see an increase in profits approaching 9%. Tracking building performance and people movement will still be important but predicting behavior may become more critical. Automating responses may accelerate reaction time in the future to make smart decisions, and the consistent accumulation of data and its analysis can help minimize impact. There is obvious power in data, but only if we can make it relevant and actionable.
The spread of COVID-19 and the containment policies being introduced are changing rapidly. While information included is current as of the date written, the views expressed herein are subject to change and may not reflect the latest opinion of Avison Young. Like all of you, Avison Young relies on government and related sources for information on the COVID-19 outbreak. We have provided links to some of these sources, which provide regularly updated information on the COVID-19 outbreak. The content provided herein is not intended as investment, tax, financial or legal advice and should not be relied on as such.