Sightlines - Canada
Life in the multiverse of work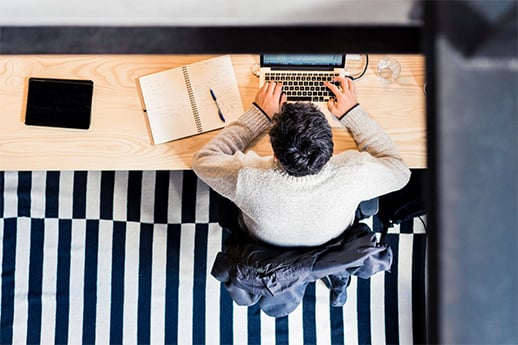 juin 1, 2021
What we learned at home
The world of knowledge work has changed, rapidly and forever. As we now understand it, the "workplace" is actually a Multiverse of Work—a blend of locations and settings that meets the expectations of talent while unlocking its full potential for productivity and innovation. We have been in touch with our clients—a broad set of global companies from a variety of business sectors—to find out about their experiences so far and their plans for the future.
One of our first questions was what they have learned from a year of working mostly from home. Almost all of them have actively sought feedback from their employees through surveys and other mechanisms, many of them more than once. The overarching message has been a mixed bag. On the positive side, employees have found a lot to enjoy about working from home, and productivity has generally remained high:
We did a general employee experience survey last summer, with some added questions about working from home and the workplace. Things are generally going well. We heard that people like working from home, and they like not having a commute. Productivity is par or better. – Retail sector
The pandemic proved that people could work from home. Productivity is up 12% for the coders. We were surprised that some of our other groups could do it. – Technology sector
We learned that 95% of our business could be done remotely. Outside of manufacturing or supply chain, most of our tasks are done through IT platforms. – Technology sector
Working from home hasn't detracted from our success. What it has done is bought us time to evaluate the business need for the workplace. – Technology sector
Productivity hasn't been damaged much, people are relatively happy. – Industrial/Wholesale sector
On the other hand, forced remote work has created problems as well. For one thing, people simply miss their coworkers. There are also indications of overwork and resulting stress. And the impact has hit some workers harder than others:
Those with children or poor infrastructure at home need relief. – Financial sector
We had everyone send a photo of their home-work setups. About half of them have a similar setup as they do the office, which tells us that not everyone can work from home all the time. – Industrial/Wholesale sector
We heard that people miss getting together for collaboration, and they miss the energy. In terms of productivity staying high, it may be because of people working more hours.– Retail sector
People don't want to commute, but the freedom of working from home has worn off. We've seen increased productivity, but people are online more because of an expanded day with no natural breaks. A downside of that is people think it's ok to interrupt you at any time. They may not be desperate to go back to the office, but they want a sense of normalcy, of a comfortable place to work with a proper desk at the right height, the right kind of chair, the right light, and a nice view. In our later employee surveys, we heard much more about ergonomics and mental health. – Technology sector
By now, it has been going on too long. We have heard that people are struggling at home, not necessarily because of working at home, but because of lockdowns more generally. Workers in our younger demographics are more dependent on the office for learning, troubleshooting, and socialization. In some of our regions, people don't typically have air conditioning and reliable broadband at home. And some job functions don't do as well at home. – Technology sector
There is also a very clear common thread about what their employees want the future workplace to look like. We recently conducted a survey of global real estate leaders through the Property Directors Forum, and the overwhelming majority of them expect a hybrid workplace model, with employees splitting time fairly evenly between the office and remote locations.
Source: Avison Young survey at Property Directors Forum, April 2021
Our clients agree that their employees want access to both remote and in-office work environments:
The feedback is that people want choice. – Financial sector
The vast majority say they want 2-3 days remote per week. – Industrial/Wholesale sector
The employees want an average of 2-3 days per week in the office. People want to connect with teammates for events, for learning, and for general connection. When we interviewed 25 of our key business leaders, they all said to let employees choose where to work in the future. – Industrial/Wholesale sector
We've gotten a lot of feedback on a dedicated Slack channel. The story is different in different business lines. For example, the sales organization is keen to get back in office. Also younger employees and those with families. The consultants like hybrid, and the techies like remote. In geographies that have lower broadband access, they are more keen to return to the office. – Technology sector
If there is a concise takeaway from what our clients have learned from their employees, it is that, while widespread working at home has proven its viability as a part of the future "normal," the fully remote model alone is not good enough to support their best work. These results are consistent with our findings in The Multiverse of Work, which show not only that employees want this flexibility, but also that it enables the best work output.
The workplace of the future
But providing more flexibility for employees to choose their best work environment means implementing changes in workplace strategy—and, potentially, in real estate portfolios. Given the multi-year nature of commercial leases, not all tenants are under urgent pressure to figure everything out. As we found in the Property Directors Forum survey, about three quarters are not yet focused on long-term questions about workplace strategy.
Source: Avison Young survey at Property Directors Forum, April 2021
Still, they have some thoughts about what the future suite of workplaces will look like. Several of our clients were prepared and already have a clear vision of this future, one that involves radically altering their corporate offices:
The office of the future will be a collaboration between HR and IT to provide an ecosystem of space. We expect the office will be a social hub, and to do that requires amenities. We will have to dial up the experience to attract the talent. – Financial sector
We were prepared. We had this plan in the desk, and we pulled it out and updated it when COVID proved to middle management that people can work well from home. We will move from everyone having a dedicated desk (plus a few extras!) to 5-people-for-3-desks sharing ratio, and we will reconfigure for less individual space and more informal meeting space. We have also discussed decentralized coworking as a third column. – Industrial/Wholesale sector
Our overall workplace plan is the same as it was in March of 2020. The difference is that the messaging has changed because of the pandemic. We were planning on needing to encourage people that they could be successful at home. Now we want to give them a social context to make them successful at the office. – Technology sector
We envision our main offices as social hubs. Where we have a very small number of people, we will have no fixed space. Instead, we will give employees coworking memberships. Where we have more people, we will have specific locations with sharing ratio in a coworking/flex space. In our main hubs, we will have leased spaces with that same sharing ratio. Inside, we will need different space types for different tasks (scrum, team, library, focus, etc.). – Technology sector
The money for workplaces will still be spent, just reallocated. We've set up a global team to talk about our office of the future. But a lot of the questions now are very technical. They're about cleaning, ventilation/filtration, etc. because we first need to provide comfort for employees so they feel safe. Then we can focus more on the future. – Technology sector
Many of these clients expect more employee choice to lead to a smaller, more agile footprint. In some cases, they acknowledge this was a need even before the pandemic:
Our vision is "twice the experience in half the size," with the staff choosing when and where to work. – Financial sector
Our footprint will be drastically reduced, probably 30-40%. We are resisting new commitments and even terminating some leases, though the reduction will primarily be driven by expirations. – Industrial/Wholesale sector
We think we can reduce our real estate budget by 40%. But we already had excess space before the pandemic; as we consolidate into fewer locations, we will try to sublease excess space where we have longer terms. – Technology sector
When we return under the new model, a lot of our offices will be oversized. We're still analyzing, but I would guess we will end up with a 25-30% reduction, more at our major campuses. We will also look at locations. We have always been based outside downtown, but some of our managers feel they need to be downtown to attract talent and we may have an opportunity now to do that. – Technology sector
Others, however, do not anticipate a reduction in occupied space:
We don't feel a rush to let space go. We will first transform our space, then evaluate. We are a downtown company with prestigious locations and buildings, and we plan to stay that way. – Industrial/Wholesale sector
We subleased a portion of our space, and we are planning on giving that up when the lease expires. Our business is growing, so we don't have plans to give up more than that. We're looking at renovating the rest. – Retail sector
We were already pretty advanced, so we don't necessarily need to downsize. We will reconfigure some. Some of our workers in Asia have extremely long commutes, so we may do some hub-and-spoke there. – Technology sector
Our Property Directors Forum survey shows similarly diverse perspectives on future footprints. Most expect some change, with about half anticipating a net space reduction.
Source: Avison Young survey at Property Directors Forum, April 2021
Regardless of the size of their future real estate portfolios, our clients recognize the inherent challenge in utilizing them efficiently in an environment where employees have greater flexibility. Technology solutions will necessarily play a part:
We don't have a clear answer yet, but we are planning for more events, and we expect that we will have too much space on Mondays and Fridays. – Industrial/Wholesale sector
Biggest conundrum is people not coming in on Fridays. We probably had less than 20% in on Fridays before the pandemic. Real estate and the workplace have just had a kind of inflection point where we have to adapt and adopt tech. – Technology sector
We will redesign our future locations as we build them, so there will be inevitable capital spent for design, branding, architecture, and technology for employees for things like access control, tagging colleagues by location, and ordering coffee. – Technology sector
It is apparent that knowledge workers will have more choices about where they work, when. At the same time, the offices they still expect to come to (albeit less frequently) will themselves evolve to maximize the time spent there. It may take a while to shake out, but the direction has been established.
Equity and effectiveness for remote workers
Another lesson of the pandemic is that, for a variety of reasons, remote work is not equally accessible to all knowledge workers. For example, parents (especially mothers) with young children have had a more difficult time working remotely. The same is true of younger workers in general.
In our conversations with clients about the future "normal," many of them told us about their plans to minimize these disparities. Much of this involves providing additional support to their workers while they are working somewhere other than the office. According to our Property Directors Forum survey, more than a quarter are already providing or planning to provide this support.
Source: Avison Young survey at Property Directors Forum, April 2021
For those working at home, we shipped hundreds of chairs from our headquarters to people's homes during the pandemic. We also offered a stipend and increased education and programs around mental health and ergonomics. – Industrial/Wholesale sector
There is some discussion about whether we should compensate people for not taking up space in the office. We have talked about offering subsidies for equipment, coworking, gyms—anything that might help our employees. – Industrial/Wholesale sector
On our later surveys people were asking for an allowance, for chairs, supplies, things of that nature. – Technology sector
We are talking about providing an allowance for workstation and chair. The amount would be tiered based on costs in our markets. – Technology sector
Aside from directly supporting remote work, several clients mentioned changes at the office to make collaboration more fluid between those in the office and those at home or other locations, as well as additional support for physical and mental health:
The technology needs to be seamless so that it is not so easy to exclude people on Zoom while most are in the conference room. – Financial sector
We have an application so employees can know which others are in the office on which days. We will also be updating our meeting rooms with cameras, speakers, etc. for seamless meetings between onsite and remote people. – Industrial/Wholesale sector
Pre-pandemic, mental health was becoming more and more important to us. Now, of course, everyone is talking about stress management. People on surveys (25-30%) asked for a health clinic onsite. We have to offer services to attract people back. – Industrial/Wholesale sector
We can't do everything to make working remotely great for everyone, but one thing we want to make sure of is that if people want or need to work from the office, they can. – Retail sector
Optimizing the future knowledge workforce means more than simply offering flexibility and choice in workplace location, and it also means more than creating excellent corporate offices that attract workers to come and collaborate. These things are necessary, but, for many companies, not sufficient. For these, making additional investment in the employee experience outside the office will be crucial to both effectiveness and equity.