News Item - Canada
Lethbridge office market demonstrates signs of tenant confidence and resilience in post-pandemic landscape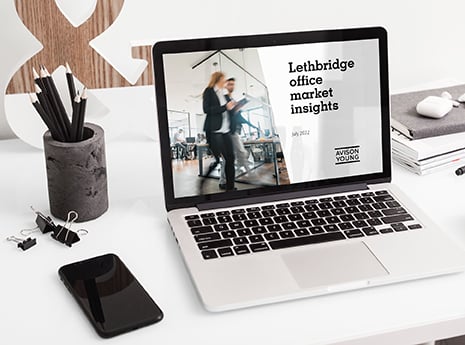 July 12, 2022
Avison Young 2022 office insights now available
Lethbridge, Alberta – Avison Young has released the "Lethbridge Office Market Insights" report, noting office tenants are gaining confidence – a behaviour that is shifting transactions to reflect longer-term commitments to more forward-thinking real estate decisions.
The Lethbridge market is seeing high demand for built-to-suit space in newer areas of the city, with inflated costs of construction materials and utility prices putting pressure on lease rates of these new builds. Higher rates are leading tenants to request more amenities and improvement. Meanwhile, businesses see the value in paying higher rents for custom spaces with quality amenities because it improves employee satisfaction and retention.
"Although the office sector is resilient, in a post-pandemic market there will be forced evolution in supply and demand with flexible solutions leading the way," said Ashley Soames, Senior Associate, Avison Young in Lethbridge. "It is impossible to talk about the 2022 office market without starting with the effects of the COVID-19 pandemic. Trends that were already emerging in certain markets were suddenly forced to accelerate. Most notably, working from home and/or remote working went from being a luxury to a necessity."
Despite tenant confidence on the rise, Lethbridge remains a conservative market when it comes to new builds, and they are generally not completed until 60-70% of spaces are pre-leased. Developers and investors attempt to minimize risk and counter uncertainty of increasing costs by having rental income in place before beginning construction.
"Moving forward, highly differentiated, and best-in-class properties are seeing the most demand - a trend that we think will continue. Amenities have an increased importance to office users as companies source out space to lease that offers more for their employees," said Shane Garner, Associate, Avison Young in Lethbridge.
Lease rates vary in different areas of the City of Lethbridge, but key factors such as office class, building age, location, amenities, and overall demand consistently influence lease rates. Overall, the average Net Rental Rate is currently $15.68 per square foot (PSF), and the average Additional Rent is currently $7.91 PSF.
Overall, the current Lethbridge office vacancy is at 13.3%, with the local market experiencing a 3% vacancy increase between 2019 and 2022. Being situated in an agricultural area and not being as dependant upon the oil industry, as many Alberta communities, fluctuations in the economy are less severe in Lethbridge than the provincial average.
About Avison Young
Avison Young creates real economic, social and environmental value as a global real estate advisor, powered by people. As a private company, our clients collaborate with an empowered partner who is invested in their success. Our integrated talent realizes the full potential of real estate by using global intelligence platforms that provide clients with insights and advantage. Together, we can create healthy, productive workplaces for employees, cities that are centers for prosperity for their citizens, and built spaces and places that create a net benefit to the economy, the environment and the community.
Avison Young is a 2022 winner of the Canada's Best Managed Companies Platinum Club designation, having retained its Best Managed designation for 11 consecutive years.
Avison Young Lethbridge (2016) Inc. is an independently owned and operated affiliate of Avison Young.
Follow Avison Young
Twitter (News) │ Twitter (Deals) │ Blog │ LinkedIn │ YouTube │ Instagram
For more information:
Download the report
Media contact:
Andrea Zviedris
[email protected]
Media Relations – Canada
+ 1 416.891.7416