News Item - Canada
Up to one third of office buildings across 14 major North American markets could provide housing potential, through adaptive reuse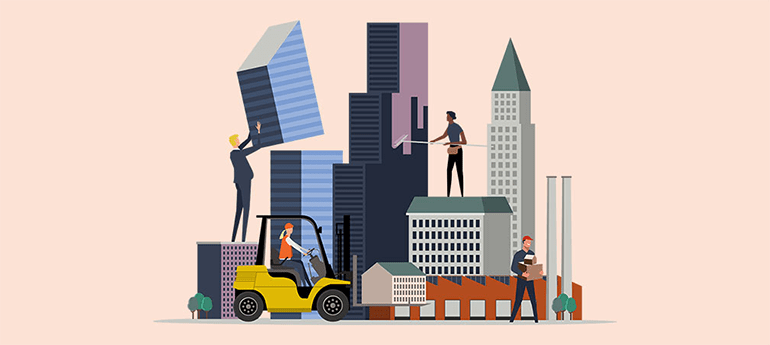 April 24, 2023
Avison Young office conversion data offers a glimpse into the art of the possible
Toronto, ON and Chicago, IL – Data from global commercial real estate advisor, Avison Young, reveals that up to 34% of office buildings in 14 major North American markets could be potential candidates for adaptive reuse. Looking at more than 26,000 buildings, office to residential conversions could open the door to potential housing for thousands of families in as many as 8,996 properties.
"Adaptive reuse is an important conversation we are having around the art of the possible, to demonstrate how this potential solution contributes to placemaking and to the revitalization and vibrancy of our neighbourhoods – particularly our downtown cores," said Sheila Botting, Principal and President, Professional Services, Americas at Avison Young. "We must reimagine how we want to live, work and play. Adaptive reuse is one of the key components of how we do that as a community."
Methodology: How did we do this?
Data provides the remarkable ability to discover, track and predict many things – and potential candidates for office to residential conversion is one area Avison Young has been exploring. Using a combination of its proprietary AVANT by Avison Young analytics and third-party analytics, the firm identified buildings built before 1990 and those with floor plates below 15,000 square feet (sf) – two anchoring criteria that tend to help isolate buildings that offer long-term potential for conversion. Avison Young applied this search to 10 U.S. markets and four Canadian markets, including those that have witnessed heightened interest in the possible solutions provided by office conversions, like Calgary, Manhattan, and San Francisco.
"Beyond age and floor plate, other criteria must be considered – such as specific building feasibility, costs, location, and surrounding amenities – to determine prime candidacy," said Stephen Silverstein, Principal and Managing Director, U.S. Studio Project and Construction Management at Avison Young. "That's where conversations with our consultants, project & construction managers, asset managers and brokerage teams come into play, although this initial data set provides a clear snapshot as a starting point of what could be possible for these markets."
Why office-to-residential conversion?
Across North America, office vacancies have highlighted a flight to quality, with tenants shifting up in the marketplace to choose higher-quality, highly-amenitized offerings with increasing vacancy in class B and C buildings. This presents an opportunity for owners of older buildings to rethink their asset strategy and explore options, whether that is to stay as is, renovate/upgrade, innovate (repurpose / adaptive reuse), or redevelop altogether.
Adaptive reuse is key to helping neighbourhoods and downtowns bounce back post-pandemic. "People are rethinking how they use office buildings and how they view the entire downtown," added Botting. "Whereas most downtowns have mainly office buildings, a mix of uses provides much needed energy and vibrancy – and that's where adaptive reuse provides a tremendous opportunity to reimagine great spaces for people to connect."

While there are risks to consider and to manage, the rewards could be endless. Conversions of older, high-vacancy, under-utilized offices offer the opportunity to build vibrant communities, reanimate city blocks, and diversify neighbourhoods, while also providing greater choice on where we live, work and play.
Avison Young leaders are available to discuss the data and the possibilities, benefits, and challenges of office conversions.
About Avison Young
Avison Young creates real economic, social and environmental value as a global real estate advisor, powered by people. As a private company, our clients collaborate with an empowered partner who is invested in their success. Our integrated talent realizes the full potential of real estate by using global intelligence platforms that provide clients with insights and advantage. Together, we can create healthy, productive workplaces for employees, cities that are centers for prosperity for their citizens, and built spaces and places that create a net benefit to the economy, the environment and the community.
Avison Young is a 2022 winner of the Canada's Best Managed Companies Platinum Club designation, having retained its Best Managed designation for 11 consecutive years.
To arrange interviews:
Sandra Hill, Manager, Media Relations – U.S.: +1 281.853.5548
Andrea Zviedris, Director, Media Relations – North America: +1 416.891.7416