Commercial real estate news releases from Avison Young Canada
Quarterly and topical research insights to help your business gain competitive edge in commercial real estate.
Iconic hockey pond hits market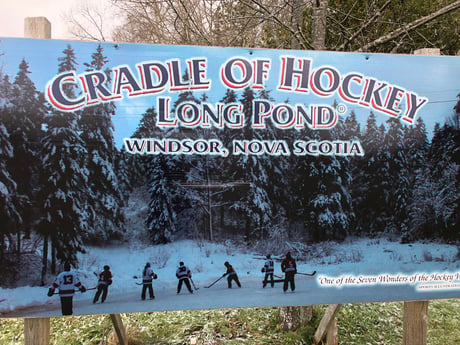 October 25, 2019
Long Pond is expected to generate international interest
Windsor, NS – LONG POND®, registered as a Trade Mark since 2005 and widely recognized as the legendary 'Cradle of Hockey,' is on the market.
The 7.28-acre pond site and adjoining 16.5-acre property, totalling 23.78 acres; are being sold as a package by the Dill family, who have been custodians of the iconic hockey pond for decades. The ask is $1,380,000 plus taxes as applicable.
"This is a hockey mecca," said Danny Dill, who owns the famous pond and surrounding lands with his brother Andrew. "We've kept the 'Pond of Dreams' alive for many years. Now it's time to focus on our farm and our families' futures. If this site were in the US, it would be an iconic 'Cooperstown' development and be a major tourist attraction. Nothing would please us more than seeing it properly developed."
The Dills are the sons of the late Howard Dill who became world famous for growing giant pumpkins on land near the pond. The Dill sons continue to grow pumpkins at the farm, located about a 45-minute drive from Halifax.
Historians have unearthed evidence of hockey being played on LONG POND® since the early 1800s, including an account by Sam Slick author Thomas Haliburton who wrote about boys on Long Pond, playing a spirited game of hurley, believed to be the first account of a hockey game as we know it today.
The family has assembled one of the largest private collections of hockey memorabilia in Canada, started by Howard Dill in the 1940s. Artifacts include hand-written hockey statistics records covering the vast majority of hockey players who ever played in Canada and the United States since the game of hockey began in the 1800s. There are also many signed photographs from the likes of Bobby Orr and many pucks – some more than 100 years old – found in the pond.
"There is absolutely no doubt that there are many, many more hidden gems/pucks buried back there," said Dill. "Could be the Holy Grail of hockey puck evolution all there in one location."
Memorabilia are held in a small museum on the Dill farm where the family has welcomed visitors and tourists for many years.
The listing is being handled by Dave Kerr, Senior Commercial Advisor with Avison Young. The sale will include the registered trademark for merchandizing rights on the name "LONG POND®" as well as access to – but not ownership of – a range of collected artifacts. The Dills are prepared to share their information and facilitate a transition with a new owner.
The pond - tucked in behind the Kings Edgehill School which is the oldest independent school in Canada (1788) - hosted the 2002 CBC Hockey Day in Canada with Don Cherry and Ron MacLean. LONG POND® has also been the site of pilgrimages from hockey greats such as Guy LaFleur, Pete Mahovlich, Wendell Clark, Ray Bourque, among many others. Former NHLer Rich Sutter is on record stating; "If this isn't hockey heaven, I don't know what is!"
While he was an astronaut on the International Space Station, Canadian Commander Chris Hadfield tweeted a picture of that part of Nova Scotia with the message: "Looking across Nova Scotia, how many places do you recognize? The birthplace of hockey, for one!"
In 2015, Sports Illustrated Magazine named LONGPOND "One of the 7 hockey wonders of the world" to recognize it as the place where the game of Hurley evolved into the much faster and modern game of hockey.
Avison Young will sell two Property Identification Numbers (PIDs) and including the LOND POND® Registered Trademark; as well as access to collected artifacts. It will be sold as a straight-forward land transaction as part of the succession planning efforts of the Dill families.
*30*