Commercial real estate news releases from Avison Young Canada
Quarterly and topical research insights to help your business gain competitive edge in commercial real estate.
New Toronto waterfront community offers innovative, progressive office space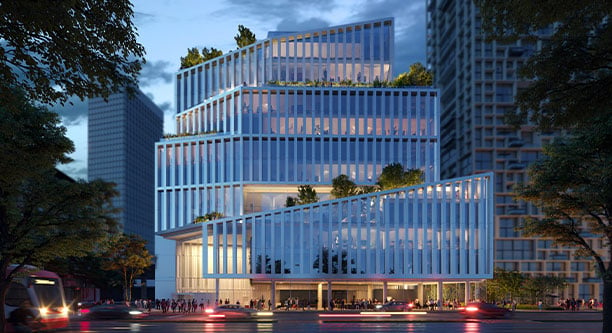 June 28, 2021
Avison Young is exclusive leasing agent for 3C Lakeshore Inc.'s 300 Queens Quay East
Toronto, ON – Avison Young has been named the exclusive office leasing agent for 300 Queens Quay East – 3C Lakeshore Inc.'s innovative flagship development project within a master planned community, The Bend, that will transform Toronto's waterfront.
The Bend is a mixed-use, 14-acre master planned community approved for a total of approximately 2.5 million square feet (sf) of residential, office, retail, cultural and entertainment uses. The Bend will form an important part of the significant and ongoing investment across Toronto's waterfront, which many creative and tech businesses call home.
The office space at The Bend will comprise approximately 217,000 sf in a building bounded by Lake Shore Boulevard East, (future) Trinity Street, (future) Queens Quay East and New Cherry Street (under construction).
"The office at 300 Queens Quay East is located in the most anticipated community on Toronto's waterfront," says Alfredo Romano, President at Castlepoint Numa and Partner at 3C Lakeshore Inc. "We're leading with a healthy, flexible and sustainable opportunity for today's workforce."
High-performance design is focused on innovation and sustainability, making the building a LEED Gold candidate once complete. Indoor and outdoor work and social spaces are integral components of the office building's design. The building will provide a much sought-after healthy work environment, featuring over 14,000 sf of terrace amenity, including seven exclusive terraces, a green roof and a rooftop amenity deck.
Tenants will enjoy a private shuttle from and to Union Station, as well as access via the express King streetcar and two upcoming LRT routes. For drivers, the site is conveniently accessible to the Don Valley Parkway, Gardiner Expressway and Lakeshore Boulevard. The site is also connected to East Bayfront, St. Lawrence Market, Corktown and the Distillery District, as well as the Waterfront Promenade and Martin Goodman Trail.
"Office space at 300 Queens Quay East will serve as an important connector to the heart of Toronto's financial district – expanding not only upon the downtown business core but also upon the existing beauty of the city's thriving waterfront," says Joe Almeida, Avison Young's Managing Director and Principal, Toronto. "We look forward to advising clients on how space in the building can be tailored to their needs to support a safe and healthy workforce."
3C Lakeshore Inc. is a development partnership with more than 90 years of experience between prominent Toronto city builders Castlepoint Numa, Cityzen Development Group and New York-based Continental Ventures. The project is designed by Adamson Associates Architects, a world-renowned architecture firm with more than 100 years of experience. Some of their most notable work includes internationally recognized and iconic buildings, such as Canary Wharf in London, 2 World Trade Centre in New York City, and St. Lawrence Market North in Toronto.
An Avison Young team comprised of Jeff Flemington, Adam Walman, Mike Brouwer, and Jesse Fragale will manage the office leasing opportunities.
To learn more about this opportunity: www.300queensquayeast.com