COVID-19 impacts on Greater Toronto Area commercial real estate market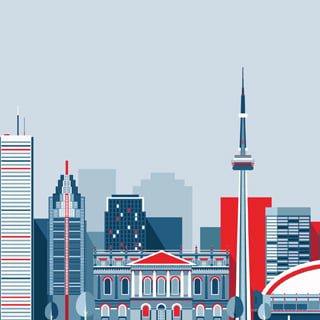 5 May 2020
Period covered: Mid-April to April 30th, 2020
COVID-19 impacts on Greater Toronto Area commercial real estate market
As this unprecedented situation continues to rapidly evolve, Avison Young's briefing notes are intended to provide an up-to-date assessment of the impact on the commercial real estate market.
General trends, news and market observations
City of Toronto development applications have come to a complete halt through the first two weeks of April. Over an 8-week period, the highest number of submissions occurred in late February with 11 applications during the 2-week period. As COVID-19 started to affect business and government in March, there was a rapid downturn, and no development submissions were processed from March 30th through April 17th
GO Transit (regional rail network) ridership is down 90% due to COVID-19, indicating the number of downtown workers currently working from home
For the TTC, the COVID-19 pandemic has resulted in an 85% drop in ridership and a loss of $90 million in monthly revenue
Landlords and property managers are upgrading operating plans to protect buildings and prepare them for re-occupancy
After the initial transition phase, many aspects of the business appear to be entering a "holding" phase where all activity is paused
Landlords continue to consider rent deferrals (especially for smaller tenants) where conditions are met, but not rent abatements. Nevertheless, some large corporations are asking landlords for reductions in rent
Some lease listings have been pulled off the market or agreements are not being renewed
Some tenants are taking the opportunity to negotiate blend-and-extend deals to add to their lease term at a reduced cost
Major landlords are advising their tenants that they are seeking greater clarity on the terms of the CECRA program in order to implement it correctly; as things stand, tenants' rental obligations for May 1st remain in place
Office market observations
Oxford Properties-sponsored tech startup accelerator OneEleven announced it would close permanently in May as a result of COVID-19 impact – however, it was subsequently announced that after May 31st, OneEleven member companies will have the option to remain in the space, under new contractual arrangements with Oxford
Major downtown landlords are saying they are prepared to hang on through the end of the year without dropping asking rental rates – even if no deals get done
However, some landlords are looking to secure quality tenants now to get ahead of a potential lull in demand amid delivery of new construction in the next 18 to 24 months
Landlords are saying that in the future, they may attract and retain tenants with the health, safety and security features of their buildings – differentiating themselves by promoting their advantages
When employees begin returning to work, companies may bring fewer employees into the same space or need more space to allow distance between employees. Companies may also want to establish more satellite locations to reduce employees' exposure to transit, allow more distance between staff, and create operational flexibility
When planning for re-occupancy, employers must consider how work will be carried out to keep staff safe – staggered seating, face masks or other PPE, etc.
Some tenants may not pick up their expansion options in new buildings under construction
Tenants may emerge from this crisis feeling wary of making long (10-year) lease commitments and may put more value on flexibility
Most lease deals done within the next 60 to 90 days are likely to be for built-out, ready-to-occupy space
Industrial market observations
GM Canada plans to start producing a million face masks per month at its Oshawa plant (with 50 employees working two shifts)
Multi-tenant landlords were hit hardest by missed payments on April 1st. One reported receiving only 30% of rents
The slowdown of supply from factories in China is one of the biggest disruptions locally, affecting the retail, manufacturing and construction sectors
Stocking for just-in-time delivery is shifting to a 60- to 90-day supply (which will require three times the warehousing space compared with current systems). Short-term leases are expected to increase while companies look for temporary space for overflow product
Co-warehousing is a trend that will become popular – due to the sub-1% vacancy rate in the GTA and the lack of new supply
There is a 30- to 90-day hold on many deals that were in progress, while a few deals are cancelled
Some tenants are moving forward with industrial lease negotiations, with pricing not significantly impacted as yet. A lot of companies are discussing what the return to work looks like
The closure of industrial construction sites in Ontario will slow the completion of more than 9 msf that was expected to be completed in the GTA during 2020 and some of that will likely be pushed into 2021
Retail market observations
Empire Co. Ltd. (owners of Sobeys and Safeway grocery chains) has accelerated the launch of its home-delivery service in the Greater Toronto Area
LCBO has signaled to landlords that, while its stores currently remain open as essential services, it views the pandemic as an event of Force Majeure which could absolve it of lease requirements to remain in operation and pay rent
Landlords are expecting May and June rental receipts to be considerably lower than April's – some mall owners reported collecting only 20% to 25% of rents in April, and expect this to fall to 5% to 10% in May
Landlords with spaces in new-build projects are still holding firm on asking rents for now - this is expected to be the case at least through the summer as the market waits for the full impact of the lockdown to be known
Landlords are also using this situation as an opportunity to evaluate tenant quality and mix in their assets
Retailers and fitness providers are considering how they will operate when the lockdown is relaxed. They will need to have procedures in place to keep patrons safe but will not want to make them onerous or uncomfortable, which would discourage customers. They must find the right balance of consumer confidence and comfort
Many landlords are providing "gross rent deferrals" for the months they are closed. The time in which tenants must pay back the deferred rent ranges from end of 2020, to spreading the amount over the entire balance of the term. This doesn't necessarily help tenants as they will be opening and operating with much lower sales as the lockdown is gradually lifted so are unlikely to be able to pay even more rent than they typically do
Some (not many) landlords are providing full abatements. For example, if a tenant is closed for three months, their rent would be fully abated for three months and the landlord would add three more months to the end of the lease term to make up the loss. However, not many are doing this because it doesn't solve the liquidity issue landlords have
Some landlords are drawing on tenants' security deposits to help with liquidity – then the tenant will be required to top up the security deposit by a specified date. In effect, this is really just deferral
Some landlords are asking tenants to come to them with a proposal of what they are able to pay and go from there. This is more of a custom solution based on an open-book policy
Multi-Residential market observations
Good activity continues on listings, with properties still receiving numerous offers
Strong demand is expected to persist once the crisis is over
Investment market observations
A prominent REIT is building in 0% inflation through 2022 in their financial modeling as they consider acquisitions
Investors are looking to put more money into industrial assets
Sentiment among lenders is that they are still hungry to place capital and fill their pipelines with new deals
Please visit the Avison Young COVID-19 Resource Centre:
https://avison-young.foleon.com/COVID-19-updates/resource-centre/research-update/
The spread of COVID-19 and the containment policies being introduced are changing rapidly. While information in the briefing notes is current as of the date written, the views expressed herein are subject to change and may not reflect the latest opinion of Avison Young. Like all of you, Avison Young relies on government and related sources for information on the COVID-19 outbreak. We have provided links to some of these sources, which provide regularly updated information on the COVID-19 outbreak. The content provided herein is not intended as investment, tax, financial or legal advice and should not be relied on as such.
For more information, please contact:
Bill Argeropoulos
Principal & Practice Leader, Research, Canada
[email protected]
1.416.673.4029