COVID-19 impacts on Greater Toronto Area commercial real estate market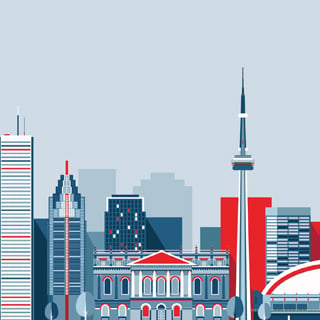 May 12, 2020
COVID-19 impacts on Greater Toronto Area commercial real estate market
As this unprecedented situation continues to rapidly evolve, Avison Young's briefing notes are intended to provide an up-to-date assessment of the impact on the commercial real estate market.
General trends, news and market observations
The City of Toronto has extended its State of Emergency indefinitely
The City has also converted some curb lanes to sidewalk to allow downtown pedestrians easier social distancing while walking
City of Vaughan has launched a new online permit portal – citizens and developers can now view, apply and pay for building permits electronically
The Government of Ontario has released workplace guidelines to provide a framework for safety in the workplace. The provincial government announced additional measures on April 30th, 2020 that are aimed at promoting workplace health and safety in several key sectors. Specifically, these "best practices" guidelines apply to the manufacturing, food manufacturing/processing, restaurant/food service and agricultural sectors
The Government of Ontario has partnered with four provincial safety associations to release more than 50 guideline documents providing worker safety procedures for a broad range of industries and workplace types
Certain businesses in Ontario and construction sites will be allowed to re-open May 4th, adhering to new safety guidelines. Most still remain closed. Now allowed to open are: Garden centres and nurseries (curbside pickup and delivery only); Lawn care and landscaping; Construction projects involving any of the following (in addition to projects already permitted to proceed): Shipping and logistics; Broadband telecommunications and digital infrastructure; Improvements to delivery of goods and services; Municipal, college and university projects; Schools and child-care centres; Site prep, excavation and servicing for most types of development; Car washes (automatic and self-serve); Car dealerships (by appointment only); Golf courses and marinas (preparation for the upcoming season only, as specified, with no public use or access permitted)
For developers, construction costs will probably rise as a result of inefficiencies imposed on job sites due to COVID-19 construction precautions
There will be a significant increase in occupancy for all sectors within the quarters following availability of a vaccine
Google affiliate Sidewalk Labs has abandoned its ambitious plans for a smart city development on Toronto's waterfront – although the project had faced some opposition and many hurdles, the reason given was the impact of COVID-19 on Toronto's real estate market
Office market observations
Food delivery provider Foodora will exit the Canadian market May 11th – office location is in downtown Toronto
According to an industry webinar discussion, it is unlikely that future office developments will commence until a vaccine is found. Tenants will examine their workplace needs post-COVID-19 to see what is required on any given day in terms of space and amenities. Leases will likely be written differently post-COVID-19 to reflect the new circumstances
It's possible that employees setting aside more home office space for increased working from home could become one factor affecting overall demand for office space/buildings
Some transactions that had been paused are starting to revive
Landlords are looking for a premium on rent for short-term deals
Delivery dates for some downtown developments are still on track - not the case for others
Tenants may be looking to do shorter-term deals, but landlords may not agree or may not provide allowances
The sublet market will likely continue to expand. New sublet listings are coming out daily
New regulations may reduce employee headcount that is possible in existing premises, and some tenants may choose to replace soft finishes with harder materials that are easier to disinfect. However, this situation will be temporary, so plans for changes to premises need to be flexible and adjustable so the space can be adapted as the situation evolves over time
New operation procedures for office towers upon reopening may include manned elevators with operators pushing the buttons for tenants
Industrial market observations
The industrial sector is directly tied to GDP – more product moving from warehouses to stores
Goodfood will open a new 42,000-sf fulfilment centre in the GTA in late May to help meet demand for online grocery shopping
The increase in e-commerce activity (up 200% according to Canada Post) means last-mile delivery locations will be in greater demand
The market may start to see softening or attrition in the small-bay segment
Uncertainty will likely result in a halt on speculative industrial developments
Any negative impact on the industrial sector from this crisis may have a knock-on effect on land values
Re-shoring of manufacturing to Canada will take a long time – it's a generational thing and cannot transition that quickly. Critical goods (such as medical) need to be closer to home moving forward
With passenger flights restricted and air freight in demand, passenger jets are being converted to move PPE from Asia
There may be consolidation in the third-party logistics (3PL) sector as companies that adapt better to this situation will come out stronger, with best practices and lessons learned from the pain they are going through right now. In future, intelligent 3PL firms will build the cost of risk into products
Data centres are expected to benefit from the crisis as demand for all kinds of online services continues to grow
Retail market observations
Owners of buildings on the PATH network in downtown Toronto have already agreed on reopening protocol harmonization
GTA grocery chain Longo's now requiring customers to wear face masks in its stores
As early as May 8th, the Ontario government is allowing all retail stores with a street entrance to provide curbside pickup and delivery, as well as in-store payment and purchases at garden centres, nurseries, hardware stores and safety supply stores
The way to shop has changed – more online food purchasing – click and collect services will be used more in the future
Many landlords want to do what it takes to keep their existing tenants and will probably find a way to help them "keep the lights on". As a result, large numbers of empty storefronts may not appear
Large enclosed malls are likely to change their mix of uses in the longer term - less fashion and more mixed-use including office, medical etc.
There are likely to be some aggressive sales in the summer months, e.g. for clothes, as retailers and distribution firms aim to clear the backlog of merchandise that is currently being warehoused
Investment market observations
BentallGreenOak acquired a 50% interest in Menkes Developments' Waterfront Innovation Centre project on behalf of Sun Life. The 475,000-sf development is currently under construction (for completion in 2021) and is 71% pre-leased. Pricing was not disclosed at the time of writing
Many investors are turning their focus to multi-residential assets amid uncertainty in other asset classes
There will likely be a hold on land purchases for the foreseeable future. Cautious approach moving forward
Buyers are reluctant to be the first to make a deal after a major event
Lenders are assuming higher vacancy, higher spreads and no rental income for up to six months as part of their underwriting
It's more difficult to get financing from banks now, making new purchases challenging and refinancing on over-leveraged properties more precarious
REIT portfolio performance will be a reflection of the quality of tenants – those tenants that were shaky before will suffer moving forward. New tenants will be examined for covenant/liquidity
Please visit the Avison Young COVID-19 Resource Centre:
https://avison-young.foleon.com/COVID-19-updates/resource-centre/research-update/
The spread of COVID-19 and the containment policies being introduced are changing rapidly. While information in the briefing notes is current as of the date written, the views expressed herein are subject to change and may not reflect the latest opinion of Avison Young. Like all of you, Avison Young relies on government and related sources for information on the COVID-19 outbreak. We have provided links to some of these sources, which provide regularly updated information on the COVID-19 outbreak. The content provided herein is not intended as investment, tax, financial or legal advice and should not be relied on as such.
For more information, please contact:
Bill Argeropoulos
Principal & Practice Leader, Research, Canada
[email protected]
1.416.673.4029