COVID-19 impacts on Greater Toronto Area commercial real estate market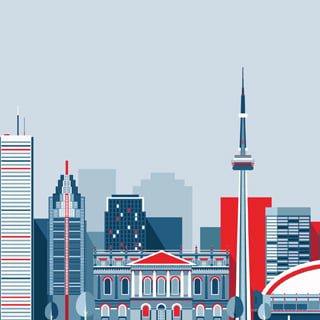 19 May 2020
Period covered: May 9th to 15th, 2020
COVID-19 impacts on Greater Toronto Area commercial real estate market
As this unprecedented situation continues to rapidly evolve, Avison Young's briefing notes are intended to provide an up-to-date assessment of the impact on the commercial real estate market.
General trends, news and market observations
Ontario's "Framework for Reopening our Province" has set the stage for many businesses to begin re-opening as soon as May 19th. Ontario's first stage of reopening will begin on Tuesday, May 19th, 2020 at 12:01 a.m. and will include:

Retail services that are not in shopping malls and have separate street-front entrances with measures in place that can enable physical distancing, such as limiting the number of customers in the store at any one time and booking appointments beforehand or on the spot
Seasonal businesses and recreational activities for individual or single competitors, including training and sport competitions conducted by a recognized national or provincial sport organization. This includes indoor and outdoor non-team sport competitions that can be played while maintaining physical distancing and without spectators, such as tennis, track and field and horse racing
Animal services, specifically pet care services, such as grooming and training, and regular veterinary appointments
Indoor and outdoor household services that can follow public health guidelines, such as housekeepers, cooks, cleaning and maintenance
Lifting essential workplace limits on construction
Allowing certain health and medical services to resume, such as in-person counselling; in-person services, in addition to virtual services, delivered by health professionals; and scheduled surgeries

In the City of Toronto, no new development applications have been submitted since March 17th, 2020. The city has now gone almost seven weeks straight without any new submissions to report
Ontario extends State of Emergency until June 2nd
The City of Toronto is planning additional road repair construction while traffic is decreased by the pandemic
TTC ridership has declined 80% since the lockdown began
Metrolinx is assessing what to do with its under-utilized GO station commuter parking lots during this time. They are considering short term lease/license opportunities to occupy these sites for vehicle, trailer parking and other clean storage uses deemed acceptable
The City of Vaughan is providing further relief on property tax payments. The deadline for interim and final installments has been extended from June 1st to July 1st
The City of Vaughan has also moved its "InSpirit Festival" online. The annual celebration (in May) offers arts and cultural programming virtually this year – for example, online karaoke
A favourite summertime tradition among Torontonians, the 142-year-old Canadian National Exhibition was cancelled due to COVID-19 – which has not occurred since the Second World War
Office market observations
Tenants are developing plans to enable staff to return to the office when permitted – in some cases, these plans have as many as four to six phases, and they include plans to "re-onboard" employees to ensure they understand all the new procedures, as well as ways for the company to "re-exit" the office if necessary
Some companies appear to be engaging in a "race to be last" returning to the office, to enable them to observe and benefit from the experience of others that return sooner
As the work-from-home situation becomes more prolonged, new issues are emerging, such as how to effectively hire and manage new employees and impart a sense of belonging and company culture to those who have never physically worked in the company's offices
Even in physical offices, large gatherings won't be permitted, so companies will look to create new rituals and opportunities for staff to connect digitally
Discussions of tours are increasing – both on the tenant side, where demand is picking up, and on the landlord side, discussing protocols for conducting tours safely
Tenants are working to find and arrange cleaning services sufficient for additional demand under new cleaning protocols that will be necessary – especially as there is the chance the office will need to be closed and deep-cleaned if an employee contracts COVID-19 and has been in the space
Some tenant requirements are shifting under these new circumstances – some are now looking exclusively for full-floor opportunities on low floors with walk-up access, for privacy and control of their space as well as avoiding use of/waiting for elevators
In addition, tenants are definitely looking for shorter terms: one to two years instead of five, for example
A large accounting firm is aiming to re-open its GTA offices in July. IT considerations will require up to two weeks of preparation prior to that. The company expects 10% to 20% of staff to return initially, commuting by car only. Their plan is to restrict the number of floors in use to avoid having to close an entire location if an employee tests positive. The estimate is that spaces will be able to function at about 50% capacity due to social distancing. Any plans to reconfigure premises or lease new premises have been put on hold. The company plans to keep the same amount of space in the GTA despite growth in employees – and will wait at least a year before any discussion to reduce space
Industrial market observations
Canada-based Novolex brand Polar Pak – a large industrial tenant in Brampton – will convert production to meet demand for four million face shields in the next two months. In addition to manufacturing personal protective equipment (PPE), Novolex has been converting certified food-grade packaging lines at more than seven locations in North America, including Polar Pak's Brampton location, which employs more than 800 people
Major landlords report that May rent collection for industrial is good (75%)
April into May was quieter for rent deferrals – however, many small- and mid-bay tenants are still struggling to pay rents
Landlords of class A industrial buildings are prepared to take space back from tenants if necessary
Activity on listings in the 20,000-sf to 30,000-sf range has been good, while sub-10,000-sf listings have been slower, and expectations for rent have softened in some cases
Cannabis requirements remain high, especially for freestanding buildings in the 20,000-sf range
Retail market observations
Large landlords coordinating on re-opening of downtown Toronto's underground PATH network
Retail deal activity has picked up lately, although deals are moving slowly. Most are deals with commencement dates in 2021, but landlords and tenants are happy to work on these deals nevertheless and that is encouraging
A major landlord reports that independent retailers are struggling most – particularly food-court retailers
Street-front restaurant owners are hopeful that the City of Toronto will allow the expansion of patios onto sidewalks and even roads during summer to help them earn more revenue
Investment market observations
The land sale market is picking up and several off-market land purchases have occurred in Mississauga and Oakville recently
Some investors are looking to buy in the next three to 12 months
Investors are still waiting for the first few big sales to occur – this will set the benchmark for future deals
Please visit the Avison Young COVID-19 Resource Centre:
https://avison-young.foleon.com/COVID-19-updates/resource-centre/research-update/
The spread of COVID-19 and the containment policies being introduced are changing rapidly. While information in the briefing notes is current as of the date written, the views expressed herein are subject to change and may not reflect the latest opinion of Avison Young. Like all of you, Avison Young relies on government and related sources for information on the COVID-19 outbreak. We have provided links to some of these sources, which provide regularly updated information on the COVID-19 outbreak. The content provided herein is not intended as investment, tax, financial or legal advice and should not be relied on as such.
For more information, please contact:
Bill Argeropoulos
Principal & Practice Leader, Research, Canada
[email protected]
1.416.673.4029