null - Commercial Real Estate News Releases | Avison Young Canada - Canada
Commercial real estate news releases from Avison Young Canada
Quarterly and topical research insights to help your business gain competitive edge in commercial real estate.
Avison Young welcomes Ontario-based leaders to its 2022 Principal Class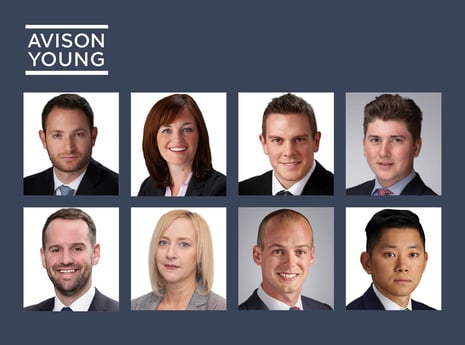 April 1, 2022
Eight new Principals join 650+ others to guide the strategy of one of the leading global commercial real estate firms
Toronto, ON – Joe Almeida and Ted Davis, Avison Young Principals and Managing Directors, announced today that eight individuals have been named Avison Young Principals based in the firm's Toronto, Toronto West and Southwestern Ontario offices.
These Ontario members join the more than 50 Principals around the world that are being honoured as part of the Avison Young Principal Class of 2022:
Jonathan Hittner
Rebekah Loverock
Neil Musselwhite
Michael Tatarsky
Christopher Valeriote
Christine Weber
Chris Wicken
Jonathan Yuan
Avison Young is a Principal-led, people-first firm with more than 650 Principals across the globe. As a private company, the firm is led by Principals who are industry leaders that exemplify the partnership structure, collaborative culture, and client-first mentality.
"We are truly proud of the achievements of each of the new Principals," said Almeida and Davis in a combined statement. "Their hard work, dedication to our business and contribution to our culture is at the heart of why they were selected to join the Principal Class of 2022."
Learn more about each of the eight new Principals below:
Jonathan Hittner has been with Avison Young for over 14 years, focusing on Multi-Family Capital Markets transactions across Ontario. Jonathan's work ethic and leadership skills will undoubtedly take the team to greater successes as they continue to establish themselves as a market-dominant force.
Rebekah Loverock has been with Avison Young for over 16 years, now serving as Vice President, National Operations. There is not one area where Rebekah does not have her fingerprints on the success of Canadian and Global operations. She has a strong work ethic, high standards and is a champion of Diversity and Inclusion. Rebekah brings an unparalleled passion to her work and a commitment toward improving the employee experience.
Neil Musselwhite has been with Avison Young for over 11 years, focusing on Multi-Family Capital Markets transactions across Ontario. Neil is a great asset to the team, demonstrating a strong business development background and client relationship management skills.
Michael Tatarsky has been with Avison Young for 4.5 years, focusing on Industrial Sale and Leasing across the GTA West region. Mike's business development has been the driving force for his success. Mike is strategic in his approach to sourcing and completing transactions on his client's behalf.
Christopher Valeriote has been with Avison Young for over six years, focusing on Industrial, Office and Capital Markets in the Southwestern Ontario region. Chris has provided exceptional service to his clients through his hard work and diligent focus on results. He has held himself as a true partner in the office, supporting the culture and promoting success throughout the team. We are excited about Chris' well-deserved appointment as Principal in 2022.
Christine Weber joined Avison Young in 2021 as Director of Workplace Strategy, where she has led our teams to deliver workplace consulting services across a wide range of marketplace opportunities. Working alongside our tenant representation brokers, project management professionals and directly with clients, Christine has led workplace intelligence, strategy and design teams that are especially critical to our clients during these challenge pandemic markets.
Chris Wicken has been with Avison Young for over seven years, focusing on Industrial Sale across the GTA West region. Chris works tirelessly for his client's ensuring their requirements are put first, whether this be property owners or tenants. Chris' hard work has earned him a Principalship at AY in 2022.
Jonathan Yuan has been with Avison Young for over 10 years, focusing on Capital Markets Investments and Sales across the GTA. Jonathan is a strategic thinker who consistently demonstrates increasing reach and aptitude across all sectors.

Avison Young creates real economic, social, and environmental value, powered by people. As a private company, our clients collaborate with an empowered partner who is invested in their success. Our integrated talent realizes the full potential of real estate by using global intelligence platforms that provide clients with insights and advantage. Together, we can create healthy, productive workplaces for employees, cities that are centers for prosperity for their citizens, and built spaces and places that create a net benefit to the economy, the environment, and the community.
Avison Young is a 2021 winner of the Canada's Best Managed Companies Platinum Club designation, having retained its Best Managed designation for ten consecutive years.
Follow Avison Young
Twitter (News) │ Twitter (Deals) │ Blog │ LinkedIn │ YouTube │ Instagram
For more information:
MEDIA:
Joe Almeida, Principal and Managing Director, Toronto: +1 416.681.8215
Ted Davis, Principal and Managing Director, Toronto West and Southwestern Ontario: +1 647.990.6647
Andrea Zviedris, Media Relations – Canada: +1 416.891.7416