null - Commercial Real Estate News Releases | Avison Young Canada - Canada
Commercial real estate news releases from Avison Young Canada
Quarterly and topical research insights to help your business gain competitive edge in commercial real estate.
Lethbridge investment activity to regain momentum mid-year after a 'holding pattern' in early 2023: Avison Young report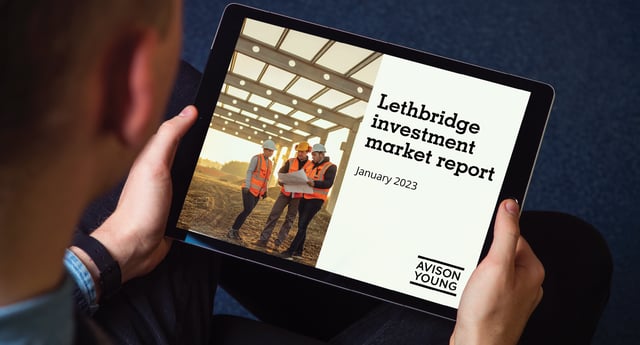 January 9, 2023
Lethbridge, Alberta – Avison Young's latest "Lethbridge Investment Market" report anticipates a 'holding pattern' in early 2023 for local investors, brought on by global economic uncertainty – with demand for commercial real estate (CRE) sale and lease activity and transactions slowly resuming by the end of the year.

"The local market has cooled in response to increased inflation and interest rates," said Doug Mereska, Managing Director in the Avison Young Lethbridge office. "Despite predictions of a slower market in the first half of 2023, we are optimistic about the future and anticipate a recovery by year-end."

In Lethbridge, construction and building costs are driving the inflation of CRE prices. With global uncertainty continuing to create volatile market conditions, the inflated cost of construction materials is causing developers to encounter unforeseen increases to expenses. According to local experts, drywall and wood prices have come down since summer 2022, but steel and many other commercial costs have not. As a result, in 2023 more buildings may be built with wood that would typically have been built with steel.

Increased costs inflate the sale or lease value of new commercial units. However, commercial rental rates in Lethbridge are still lower on average than other communities of similar size and demographics in Western Canada, attracting national tenants to new builds in the area.

"Avison Young is optimistic for Lethbridge as we move into 2023 with several new developments proposed and set to commence," said Jeremy Roden, Executive Vice President in the Avison Young Lethbridge office. "We will see a complete redevelopment of Warehouse Square which is a retail and office development, as well as future residential and commercial phases at Crossings and Frontier Business Park which is an industrial development – to name a few."

The high demand for commercial space has pushed local vacancy rates extremely low with 3.8% vacancy in industrial space and 3.0% vacancy in retail space. In keeping with national trends, high-quality properties in accessible, attractive, amenity-rich locations will thrive.

Lethbridge is insulated from much of the economic downturn due to the diversified local economy with its focus on agri-food production and the regional benefits of oil and gas. The new Lethbridge & District Exhibition Agri-Food Hub and Trade Centre, that is scheduled to be completed later this year, will serve as an economic driver of growth for Alberta's food sector.


About Avison Young

Avison Young creates real economic, social and environmental value as a global real estate advisor, powered by people. As a private company, our clients collaborate with an empowered partner who is invested in their success. Our integrated talent realizes the full potential of real estate by using global intelligence platforms that provide clients with insights and advantage. Together, we can create healthy, productive workplaces for employees, cities that are centers for prosperity for their citizens, and built spaces and places that create a net benefit to the economy, the environment and the community.

Avison Young is a 2022 winner of the Canada's Best Managed Companies Platinum Club designation, having retained its Best Managed designation for 11 consecutive years.

Follow Avison Young
Twitter (News) │ Twitter (Deals) │ Blog │ LinkedIn │ YouTube │ Instagram
For more information
Download the report

Media contact:
Karlene Quinton
[email protected]
Marketing Director
+ 1 403.330.3338