News Item - Canada
Avison Young closes Ontario's largest retail investment transaction this year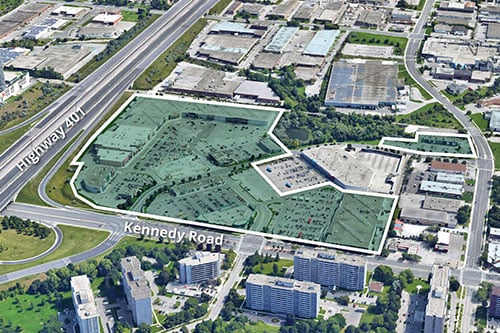 December 16, 2021
Kennedy Commons changes hands in a period of strong retail market activity as in-person shopping surges
Kennedy Commons changes hands in a period of strong retail market activity as in-person shopping surges
Toronto, ON – Avison Young announces the sale of Kennedy Commons Shopping Centre in Toronto, on behalf of RioCan and First Gulf – the year's largest retail investment deal in Ontario, valued at $215M.
The sale to a private investor, which closed on December 15th, also represents one of the year's largest retail investment transactions in Canada. Avison Young acted as the vendors' agent.
"We were pleased to work closely with all parties, including RioCan and First Gulf, to arrive at this record-setting sale," says Robin White, Broker and Principal, Capital Markets for Avison Young in Toronto. "Kennedy Commons is a terrific investment representing all the best features in a retail property: it's extremely well positioned near the highway, major city streets, TTC and GO transit networks, and is within an expanding residential area – with opportunities for further multi-use development."
Kennedy Commons weathered the pandemic particularly well with 0% vacancy throughout the period. Near the intersection of Highway 401 and Kennedy Road, the open-air shopping destination is one of the strongest retail power centres in the GTA, with 11 freestanding buildings and a twelfth underway. This is a flourishing area that has been identified by the City of Toronto as part of their growth management strategy.
Investor confidence in the Greater Toronto Area's (GTA) retail sector has been strong with broad interest from investors. Overall, retail investment in the GTA increased 33% in Q3 over Q2 2021, marking the fifth consecutive quarterly increase. Quarterly dollar volume was up 181% compared with Q3 2020 – and it is anticipated that this transaction will bolster GTA results for Q4.
In-person retail shopping makes up a significant portion of buyers' experiences, as demonstrated by Avison Young's Retail Vitality Index, which analyzes real-time foot traffic in major markets across North America – including six in Canada. The exclusive data reveals that in-person retail traffic in 2021 rebounded substantially from 2020. For example, across North America, foot traffic on Black Friday 2021 jumped over 2020, up 62.8% in retail corridors, up 60.5% in shopping centres, and up 40.4% in big-box retailers.
Avison Young creates real economic, social and environmental value as a global real estate advisor, powered by people. As a private company, our clients collaborate with an empowered partner who is invested in their success. Our integrated talent realizes the full potential of real estate by using global intelligence platforms that provide clients with insights and advantage. Together, we can create healthy, productive workplaces for employees, cities that are centers for prosperity for their citizens, and built spaces and places that create a net benefit to the economy, the environment and the community.
Avison Young is a 2021 winner of the Canada's Best Managed Companies Platinum Club designation, having retained its Best Managed designation for 10 consecutive years.
For more information:
MEDIA:
Andrea Zviedris [email protected], Media Relations – Canada: +1 416.891.7416
BUSINESS DEVELOPMENT:
Robin White [email protected], Broker, Principal, Capital Markets Toronto: +1.416.673.4009