null - Commercial Real Estate News Releases | Avison Young Canada - Canada
Commercial real estate news releases from Avison Young Canada
Quarterly and topical research insights to help your business gain competitive edge in commercial real estate.
Avison Young strengthens its regional network with five new regional managing directors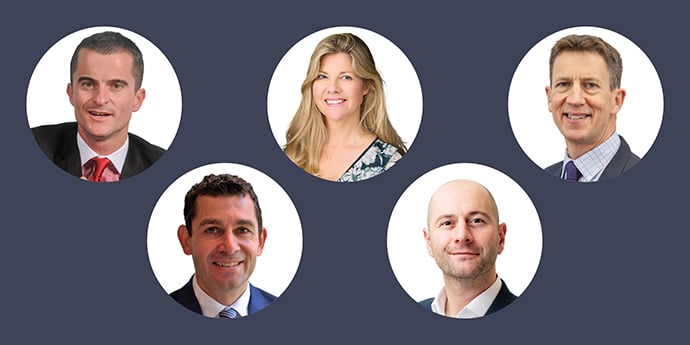 August 1, 2023
Commercial real estate firm announces five new Regional Managing Directors for the Leeds, Bristol, Manchester, Glasgow and Edinburgh offices, who will be responsible for driving business growth and building long-term partnerships for the future.
Avison Young is delighted to announce the appointment of five new Regional Managing Directors. Stuart Howie, Sarah-Jane Osborne, Barry Crichton, Paul Broad and Stewart Taylor take up the role for Leeds, Bristol, Manchester, Glasgow and Edinburgh respectively. The new RMDs will work to drive forward the business, developing long-term partnerships across the built environment, providing top tier professional advisory services and supporting the delivery of large-scale regional development projects.
The growth of Avison Young's regional network in recent years is demonstrated by investment in both people and commercial real estate that builds on decades of heritage and experience. This includes the opening of a new office in Manchester after 40 years in the city, alongside new office locations in Leeds and Newcastle. Each of the nine regional offices across the country has their own RMD who is responsible for spearheading growth, and further announcements will be made in due course about other RMD appointments.
This announcement follows the promotion of Jo Davis, former Bristol RMD to UK Executive Chair and Leader of the Place Business Group, and of Chris Cheap, former Manchester RMD to Chief Transformation Officer. Both appointments in Scotland follow the retirement of Glasgow and Edinburgh RMDs.It was also recently announced that Stephen Cowperthwaite has become Managing Director of the Regions, leading and coordinating Avison Young's offer, building on the firm's expertise in town and city regeneration and public and private sector partnership and investment.
Taking on the role as RMD for Leeds is Stuart Howie, who has been with the firm in Leeds for four years and is Head of Regeneration. Howie has provided commercial and financial advice on some of the UK's largest property and regeneration projects, with current projects including advising Durham City Council on the creation of an Innovation District with Durham University. He has over 25 years' experience of advising on delivery of economic development, investment and infrastructure to drive regional growth.
Sarah-Jane Osborne, Avison Young's Head of Workplace UK and Europe takes on the role in Bristol, having joined the firm in 2022. She has worked with blue chip companies, public, private and third sector organisations and has specialist expertise within the UK legal marketplace. With extensive expertise in approaching projects through the lenses of people, place, technology and culture, Sarah-Jane is passionate about working with colleagues and clients to develop and deliver future of work strategies and environments.
Leading the Project Consultancy & Management business from Manchester, Barry Crichton has over 20 years industry experience in the field of Project Consultancy and Management Services with a wealth of knowledge and expertise within the Central Government and Local Public Sector. As part of the firm for over five years, Crichton has a strong delivery track record of multi-stakeholder projects, including The Christie NHS Foundation Trust, Nuclear Decommissioning Authority and a range of Placemaking engagements for Local Authority clients.
With 20 years' experience in the Glasgow market, and across Scotland, Paul joined as a Director and became a Principal in 2022, before his appointment to RMD. He has successfully delivered several of Glasgow's highest profile Grade A office and industrial development and letting projects, and is recognised as the leading public sector advisor in Scotland. Currently Paul is working closely with Scottish Government, Scottish Enterprise, local Councils and commercial partners to help bring forward Scotland's new innovation districts for high value and advanced manufacturing, as the Scottish economy transitions to Net Zero and a highly skilled workforce. Paul also leads Avison Young's Scottish Transactional Team and Scottish Strategic Consultancy offer, as well as advising occupiers on how to 'right size' their office portfolios post covid.
Stewart Taylor, brings a breadth of experience to Avison Young, in his role as RMD of Edinburgh and Principal, Land and Development. Taylor has over 25 years' experience leading the Transactions business at one of Scotland's leading commercial practices, and across both commercial and residential sectors where he has acted for stakeholders on all sides. He was involved from inception to completion in Quartermile, recognised as one of the most successful mixed-use regeneration schemes in Scotland, including the delivery of 500,000 sq ft of offices.
Nick Walkley, UK President, Avison Young, said: "These new appointments further strengthen Avison Young's regional offering and reflect the confidence we have in our UK cities. As a business, we are all working with a shared ambition as the 'people for place', committed to building relationships and strategies to make a meaningful impact in the regions in which we work. We are very excited about the future of our regional offices."
Stephen Cowperwaite, Managing Director, Regions, Avison Young, said: "Strengthening our regional relationships and partnerships is integral to Avison's Young growth strategy in the UK. I look forward to working closely with our five new RMDs, who are demonstrating Avison Young's expertise in town and city regeneration and public and private sector partnership and investment."