null - Commercial Real Estate News Releases | Avison Young Canada - Canada
Commercial real estate news releases from Avison Young Canada
Quarterly and topical research insights to help your business gain competitive edge in commercial real estate.
Avison Young unveils Ontario Tax Team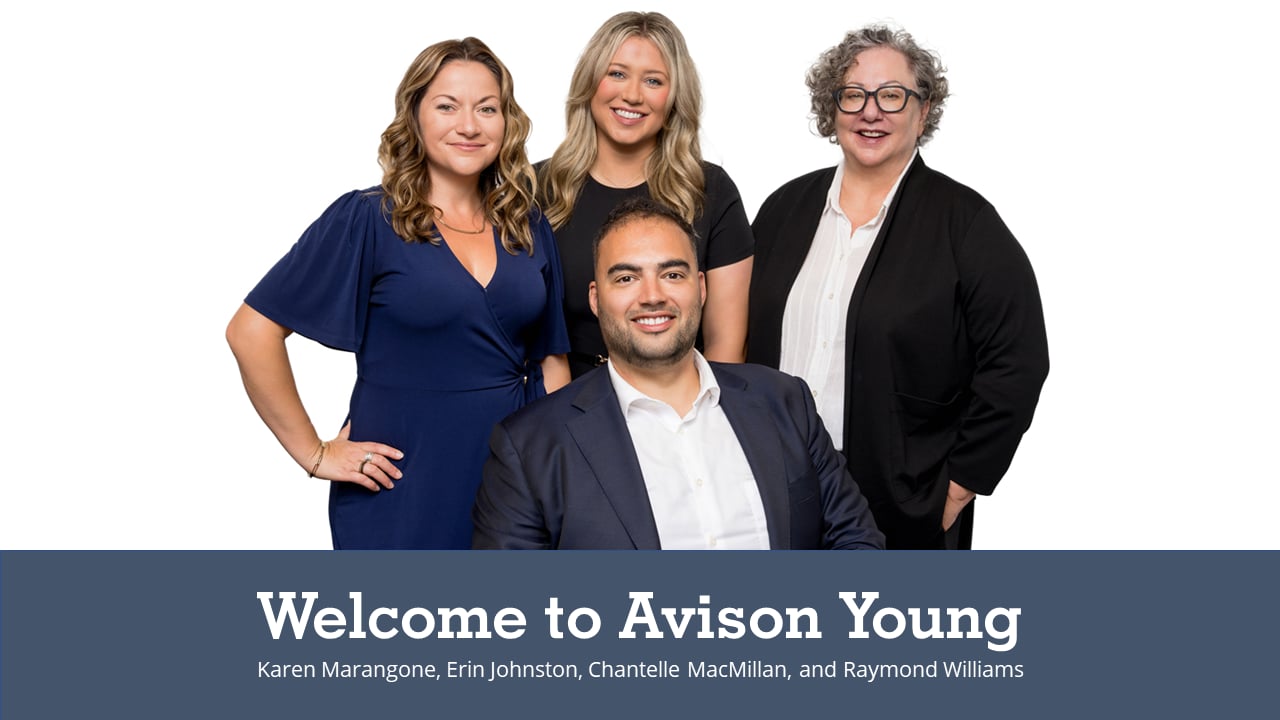 September 20, 2023
Bolstering firm's offering of tax advisory services in Canada
Toronto, ON – Avison Young today unveils a new property tax team in Ontario, comprising four industry veterans: Principals Karen Marangone and Erin Johnston, Chantelle MacMillan and Raymond Williams. Together, this team will enhance the firm's already-robust offering of tax advisory services in other parts of Canada.
Based in Toronto and Ottawa, the team will be responsible for expanding Avison Young's property tax practice in Ontario and amplifying the firm's property tax services across Canada, working closely with private and public clients across various sectors.
"Karen, Erin, Chantelle, and Raymond are industry leaders with an impressive track record, and I am thrilled to welcome individuals of their calibre to Avison Young," said Matthew McWatters, Principal, Executive Vice President & Canadian Leader, Valuation & Advisory Services. "The team brings tremendous expertise that complements our suite of services, enabling us to help clients with key strategic advice on critical real estate decisions and I am looking forward to leveraging their expertise to grow our business across markets we operate in."
With three decades of experience in the property tax and assessment field, Marangone is a distinguished professional renowned for her exceptional talent for managing national portfolios with finesse. She is lauded by her peers and clients for her leadership and in-depth knowledge and has firmly established a reputation as a business partner who consistently surpasses client expectations.
Johnston is a trusted advisor and business partner that clients turn to for her expert advice and industry insights. She brings more than two decades of experience in property assessment and taxation across both private and public sectors. Johnston's stellar record of mitigating assessment and tax liabilities for a diverse spectrum of asset types is an asset to Avison Young.
Williams brings over a decade of experience in the property tax and assessment field and is a trusted authority. His deep industry knowledge, dedication to clients, and ability to communicate effectively make him an indispensable partner in navigating property tax and assessment challenges.
MacMillan is a highly accomplished legal professional with a robust background in property tax advocacy, litigation, and paralegal services, and has experience working in the private and public sectors. She is a natural problem-solver, and her deep understanding of property assessment methodologies positions her as a leading authority within the property tax community.
"We are thrilled to continue with our ambitious expansion for our overall Professional Services platform across the Americas, by adding highly talented teams and services to best serve the broader marketplace" says Sheila Botting, President of Americas Professional Services.
"I am excited to join Avison Young and partner with colleagues across the organization to grow the property tax practice in Ontario," said Marangone. "I look forward to tapping into Avison Young's vast network of experts and leveraging the firm's leading-edge technology platforms to deliver innovative solutions for our clients."
"The pursuit of excellence and relentless drive to help clients is what attracts me to Avison Young," says Johnston. "I look forward to partnering with new colleagues across the firm to develop innovative solutions that will exceed client expectations."
Avison Young creates real economic, social and environmental value as a global real estate advisor, powered by people. As a private company, our clients collaborate with an empowered partner who is invested in their success. Our integrated talent realizes the full potential of real estate by using global intelligence platforms that provide clients with insights and advantage. Together, we can create healthy, productive workplaces for employees, cities that are centers for prosperity for their citizens, and built spaces and places that create a net benefit to the economy, the environment and the community.
Avison Young is a 2023 winner of the Canada's Best Managed Companies Platinum Club designation, having retained its Best Managed designation for 12 consecutive years.
For more information: