News Item - Lethbridge
Lethbridge sees shift in demand for office space from rate-driven to quality-driven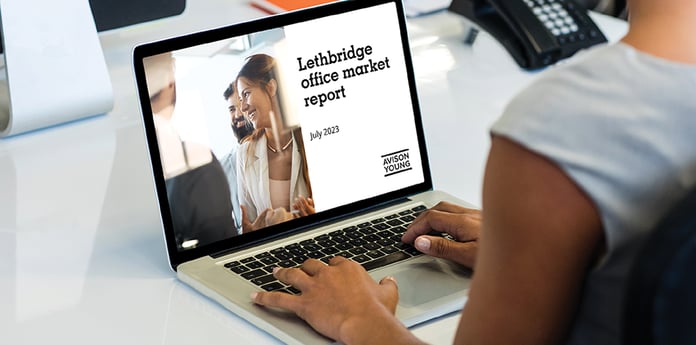 July 5, 2023
Vacancy rate decreases year over year by 2.3 per cent; more than 36,000 sf in development pipeline
Lethbridge, Alberta
– Avison Young's latest office market report for Lethbridge reveals the cost of building out new office space in the city has doubled since 2019 – yet despite increased costs, there has been a marked shift in demand toward quality space.
"Inflation has driven up the cost of new construction and slowed investment in new development," said Jeremy Roden, Executive Vice President in the Avison Young Lethbridge office. "We have seen this most prevalently in office build-outs from shell space."
For example, whereas the cost to build out medical office suites from shell was approximately $100 - $110 per-square-foot (psf) four years ago, a basic office built from shell now costs approximately $200 psf. This presents a challenge for investors taking on new development projects, and for owner-users and tenants building out their office space.
Contributing factors include the effects of the shift in office work since the pandemic; changes in user mentalities; and increased costs. New office owners and users are particularly challenged by the inflated expense of construction and labour, which has effectively doubled the cost of building out office space since 2019.
Meanwhile, there has been a quality-driven shift among building users where employee-centric, flexible, modern space is the primary focus, and the cost psf of the space is secondary. Termed the 'flight to quality,' this shift in sentiment among office users sees new spaces being designed to enhance workplace culture and appeal to the needs of employees through desirable amenities and functional design elements.
"Office users are prioritizing flexible, functional spaces that support their corporate culture and help retain staff, over the per-square-foot cost of the space," said Ashley Soames, Senior Associate in the Avison Young Lethbridge office. "Successful landlords are taking this shift in mentality into account and are actively investing in their spaces."
With 36,676 square feet of new office buildings in the planning stages, general optimism remains among investors, despite increased build-out costs and market challenges. There is also a case for optimism among tenants, as the average Lethbridge office vacancy rate decreased 2.3 per cent over the last year to 11 per cent, with B-and C-Class office space representing the bulk of the vacancy. These aged spaces may have to consider future redevelopment to attract and retain modern users.
"Lethbridge has seen positive net absorption and maintained steady lease rates with moderate increases," said Soames. "We are optimistic about what the future of office work will look like in our city."
View the report
About Avison

Young
Avison Young creates real economic, social and environmental value as a global real estate advisor, powered by people. As a private company, our clients collaborate with an empowered partner who is invested in their success. Our integrated talent realizes the full potential of real estate by using global intelligence platforms that provide clients with insights and advantage. Together, we can create healthy, productive workplaces for employees, cities that are centers for prosperity for their citizens, and built spaces and places that create a net benefit to the economy, the environment and the community.
Avison Young is a 2023 winner of the Canada's Best Managed Companies Platinum Club designation, having retained its Best Managed designation for 12 consecutive years.
www.avisonyoung.com
Follow Avison Young
Twitter (News)
│
Twitter (Deals)
│
Blog
│
LinkedIn
│
YouTube
│
Instagram
For more

information:
Download the report
Media

contact:
Karlene Quinton
[email protected]
Marketing Director